It is clear that our lives are defined by the space between the two camps of; firstly, our thoughts on our own actions; and secondly, by our fear of what other people might think.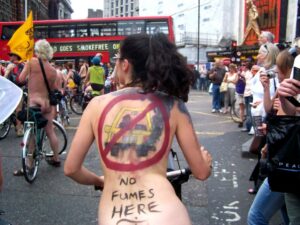 the Roman Emperor Marcus Aurelius pointed this out some two thousand years ago: "All is as thinking makes it so."
Simply taking part in an environmental protest movement makes one an object of curiosity for many people, and while the majority of the public will be cheering the riders on, the media are busy interviewing the participants, regardless as to whether they are naked or clothed.
Extract from the World Naked Bike Ride book.