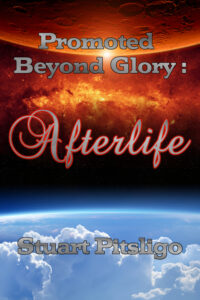 "Your turn," an angel said to Paul. Nathalie grasped Paul's hand and squeezed it for a second, then released it as Paul stepped forward. He instantly felt the gaze of the evaluator on him and he waited, shaking slightly with fear of his judgement. The evaluator held the gaze for a few seconds before shaking his head with a wicked smile.
"Oh dear," said the evaluator, and Paul was consumed by a tongue of fire that emerged, wreathed in smoke from the mist around them. Nathalie heard Paul scream before it faded to silence and the fire withered to nothingness.
Now it was her turn and she braced herself for her fate.
Excerpt from Promoted Beyond Glory: Afterlife by Stuart Pitsligo