The comradeship which comes from taking part in an event like the WNBR, fighting for a common cause, also seems to bring out the best in people. Many will also be helping with the presumably onerous task of putting body paint on each other, for instance.John O'Connell describes how one WNBR participant was at the train station, on his way home to Birmingham, in the UK, after the ride, only to find he'd somehow lost his train ticket, while he was offering to sell his bike cheaply to pay for the ticket, his fellow riders have a whip-round to buy his ticket for him.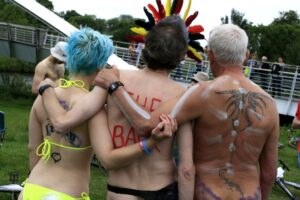 During the London 2005 ride, Bernard Boase rescued a large black poodle from amongst the legs of the passers-by in Garrick Street, when it had jumped from it's owners handlebar basket. Venus, another rider, offered to return it to the owner, who she had noticed, nearby.
People also use the WNBR as an entertaining way to raise funds for a particular charity. Tristan White used his participation, while cycling naked and wearing a mask of Boris Johnson, the Mayor of London well known for introducing a bicycle rentals scheme to the City of London, to raise UKP 600 for the S.O.P.H.I.E charity, (the Sophie Lancaster Foundation), and then in a suitable spirit of empathy, his employers, Legal & General, doubled his contribution to UKP 1200.
Still others assist an aged relative to join in, like Paul Burkimsher helping his 84 year old mother-in-law to come along and fully take part in the WNBR, sometimes even using the bicycle as a bit of a walking frame; she joined in 3 rides, London in 2005 + 2006 and York in 2009. As she said of the second ride: "We went past the US Embassy. I remember all the people laughing and cheering.
Extract from the World Naked Bike Ride book.