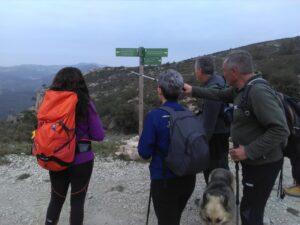 We set off just past 8 o'clock from behind Hospitalet de l'Infant along the Costa Dorada coast of Tarragona. The group was a mixed bunch of CEC members, led by Angel from the Centre Escursioniste de Cambrils, and of course including Polly the collie, We began by meandering gently up the slop towards the ridge behind, through the ever-present olive fields of the area, and then started to ascend the steeper section to the ridge proper and the col of Portadella itself.
The views down to the coast below were magnificent. Although we were a bit disturbed by the 4-wheel drive motor vehicles and moto-cross bikes which ascended the mountain as we settled down for a short lunch break. They soon left for more gravel chewing and we could continue our hike in peace and quiet.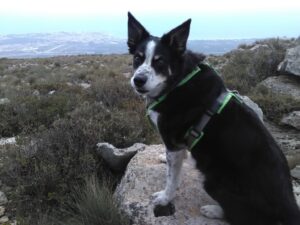 We lost a lot of height on the other side of the Portadella as we worked our way down and around to re-ascend the ridge further eastwards. This enabled us to locate a short tricky bit of track which took us through a steep path to rejoin the normal hiking trails below back on the coastal side of the ridge.
Polly thought this was all for her benefit of course, and kept fetching sticks for people to throw for her. She's getting a bit older now though, and I've come to realise that the stick-throwing is probably not a positive adjunct to the hiking when we're out for a proper day's walk. Several hours later we returned to our cars having had a great day out.