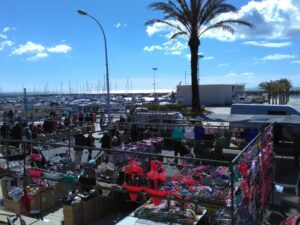 The market town of Hospitale de l'Infant, in the province of Tarragona, hosts a market every sunday. It's a local market which doubles as a tourist market, as you can buy all kinds of things here, from t-shirts to sunglasses, handbags to training-shoes, locally harvested honey to many types of olives, all kinds of fruit and vegetables.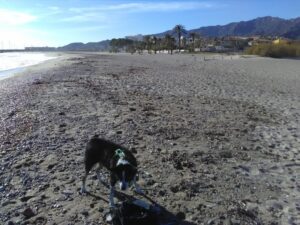 One of the nice things about the location is the yacht harbour in front of the market, and beaches to the left and to the right. Also, there's the dog-beach nestled in the riera between Miami Platja and Hospitalet de l'Infant. This gives Polly and I the chance of a quick splash before toiling up and down between the market stalls in search of a suitable sun hat.
It can also be bit of a social event, as you're as likely to meet locals as tourists here, sitting down for a casual cup of coffee or a refresco at one of the café stalls. You might even get to watch some intrepid surfers enjoying the waves as they lap along the beach, if the wind has picked up sufficiently to create a little surf for them. All in all, it's a fun place to visit on the Costa Dorada coastline.
Maybe see you there!