Next morning the warm rays of the sun poured onto the veranda as we sorted our gear – a light pack for the walk, and the rest for the postman to deliver to our next stop-over. Our first day began with easy walking over gentle grassy farmland.. Then a steady climb to the highest point of the day – Limestone Hill, 359m: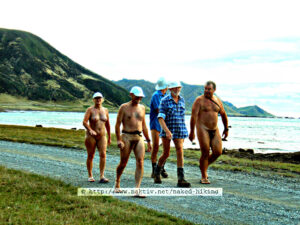 From here we descended almost to sea level before climbing steeply up to Tim's Hill (213m) which required considerable effort and determination. From the top we caught our first glimpse of the Pacific Ocean.
However, we still had another hill to traverse (The Lookout, 165m) before reaching "The Cookhouse" and the cooling waters of the Pacific. The six youngest members of the party still had enough energy to walk two km south along the coast to the remains of the Opua Shipwreck (1926) before returning for yet another scrumptious meal.
An extract from the Naked Hiking book, chapter by Doug Ball.