We came out into the sunlight at the top of the woods, and a large open swathe of bright grass led us up towards the gasthof on the ridge. We dressed, shortly before arriving there and, having brought our own lunch, continued along the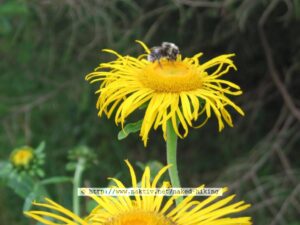 trail to get a little peace and quiet. 100 metres past the gasthof, we stripped off again, just as Tania began to demolish yet another raspberry bush.
A number of people joined the trail here from ahead and to the left of us, and a few cyclists came hurtling past, one trailing a camera and asking if it was ok if he took a photo. We didn't mind of course, although we thought that if he'd stopped perhaps the photo would not be so blurred.
We continued along the easy ridge path, surrounded by trees again, until we reached an open spot, where we could stop for a bit of lunch.
Salami and sunshine
A little salami and cheese, some fruit and vegetables, a cool drink, a good view and companionable company. Naked in the high mountain sunshine, amidst the trees and foothills of southern Bavaria, we soaked up the atmosphere quietly.
Extract from the Naked Hiking book, chapter by Richard Foley