There's an old myth about body painting being dangerous, as it supposedly doesn't let your skin breathe, so-called epidermal suffocation. This was the gimmick used in the James Bond (Sean Connery) movie Goldfinger in 1964, when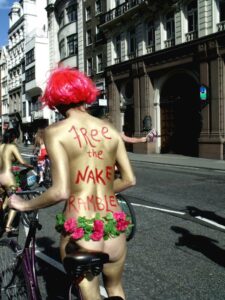 the girl Jill Masterson (Shirley Eaton), was covered in gold paint and apparently died a terrible death from suffocation.
This is an entertaining fantasy, but the skin on the human just does not breathe in the same way we might imagine by comparing this organ with our lungs, and if you can breathe through your mouth, covering your skin in a safe paint will make no difference to you.
Goldfinger myth
I suspect the origin of this myth goes back to the days of the Judy Garland movie, The Wizard of Oz in 1939, when the actor playing the Tin Man (Buddy Ebsen) role became seriously ill and was hospitalized because of inhaling dangerous metal flakes from the unsafe aluminium-based paint make-up, which was used at the time.
Today's body paint is safe and fun to use, although it's still worth pointing out that one should of course use body paint made for the purpose, and not just any old paint one happens to have to hand. Kids put paint on for fancy dress parties, and WNBR protest activists wear body paint to both attract attention to the cause and to have fun.
Extract from the World Naked Bike Ride book.