The first WNBR held at Golden Bay, Australia, was supported by a woman suffering from cancer who had a breast removed, and she was determined to let people see that she was out riding her bike just like everybody else.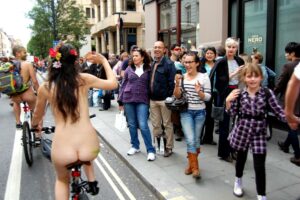 Exercise was an important part of her recovery and healing process and she was willing to have people stare at her to raise the issue of safe cycling in the Bay. Another outstanding participant, also from Golden Bay is Verne Pavreal, who is blind.
Bicycling naked through town is not something which leaps intuitively to mind when considering activities for blind people, but with the loving and trustworthy support of his wife Lisa, and using a tandem bike, he was also able to take part.
Extract from the World Naked Bike Ride book.