Continuing up the now more sparsely vegetated valley, sweating under the clear blue sky, we could feel the mountain air glide gently over our skins, keeping us refreshingly dry as it did so. On our right, etched across the skyline, we could see the summit ridge and our target summit for the day.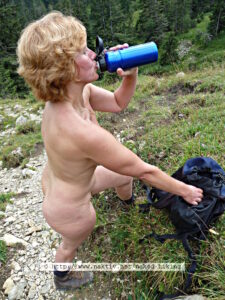 As we gained height steadily, we began to overtaken by faster hikers, all clothed, and all friendly. First one couple, then another, then a family coming down the hill, several stragglers and finally we passed a group having a rest just beyond the Austrian/German border, at the col itself. We exchanged pleasantries, and took in the glorious view of the alps stretching away into Austria, before Emma and I settled down nearby to have a light picnic. Polly nibbled on bits of cheese and salami.
At this point the clouds were building and it looked wise to keep moving, so we ambled behind the closed Klausenberg hut, waving back to the friendly group of picknickers there, and followed the narrow and gentle ridge, along to the summit. The views from this deceptively small ridge are quite magnificent, down to the Chiemsee lake to the north, across to the Kampenwand to the west, and south into Austria and the higher snow covered alps.
A short stop on top, and then we followed the trail north along the ridge through more forest, coming to several memorials to people lost in the mountains. A particularly poignant wooden cross impaled in a rocky vantage point, had been erected by the local mountain rescue team to their fallen comrades.
An extract from the Naked Hiking book, chapter by Richard Foley.