In the modern world, it's not necessary any more for people to close their windows on nudity, indeed being naked to attract attention to a cause would be a bit pointless if everyone did.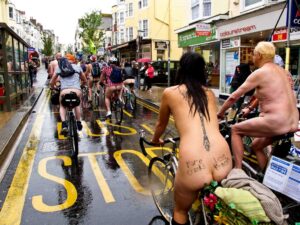 Fortunately that's not the case in these more modern times and in fact members of the public who see the WNBR, as it passes them in the high street, are almost unanimously very supportive.
Of course, there are always one or two diehard, puritanical souls who express dismay and disgust with down-turned mouths, sour fish-faces and distasteful thoughts in only their minds, but the vast majority of people applaud and clap, and wave enthusiastically.
As Troy Marusek, who bicycled 800 miles from Chicago to St. Louis to join two separate WNBRs from his home town of Lexington, KY, relates: "A lot of the music I listen to dares me to live, and not to waste my life."
Extract from the World Naked Bike Ride book.