One Saturday, the neighbours of club Mont-roig, an urbanisation in the department of Mont-roig del Camp, Tarragona, came together to clean-up the rubbish which had been gathering at the entrance to the village.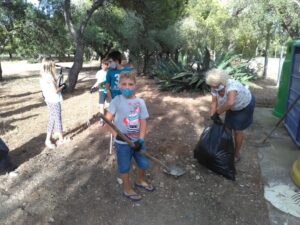 Over the years there has been a lot of trouble with rubbish being dumped by drivers passing by on the road from the beach to the town. Also, the rubbish bins themselves often being only half-heartedly cleared by the council, and stray rubbish-browsers tipping the contents onto the street. Not to mention rubbish dumped carelessly outside the rubbish containers to be picked up by cats, dogs and wild pigs. And the wind…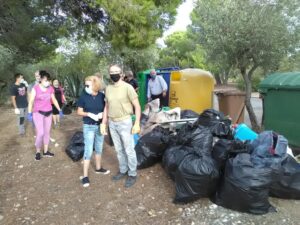 The neighbouring town of Caselot held a public protest at the lack of support from the local council, which appeared in the regional media, and seemed to help motivate the council to clear up the heavy piles of green and building rubble piled up around the bins the day before our own action. It needs to be mentioned that the local council also provided us with some gloves, a couple of rubbish-picking pincers, and a sizable pile of rubbish bags. Working together we can achieve change.
The club Mont-roig clean-up action was a total success, collecting many bags of rubbish as well as demonstrating a certain community spirit. All age groups were well represented and a fun time had by all. This short but effective event was organized by the local club Mont-roig neighbour's group which is dedicated to improving the environment in which we all live.