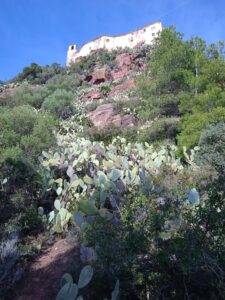 The first mini-hike of the new year and Maggie and I set off from the Baix-camp village of Mont-roig with Polly for the Hermita. The route started by winding it's way past the dusty houses of Mont-roig with their front doors opening directly onto the narrow streets. At the top of the village, a field track leads through several extensive olive groves with the Hermita and the Arena looming directly in front and above us.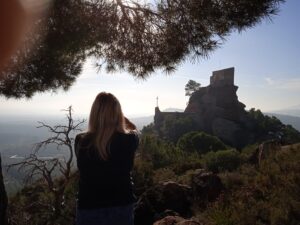 The route steadily gains height as we pass workers pruning the olive trees, and throw the occasional stick to keep Polly occupied. The weather was fine for January and some light cloud drifted lazily across the blue sky. As we approached the base of the main part of the ascent, huge cactuses started to peer out from the corners of the olive groves. The Hermita almost appeared to be built on fields of cactus. The last part of the trail became paved with rocks and the views opened out on the surrounding countryside as we gained height. We could see the sunlight glinting of the mediterranean coast below us through the morning haze.

While Maggie went in to explore the Hermita, Polly and I stayed outside because of the dogs aren't welcome signs. Although, like on the beaches here, the no-dog rules are often largely ignored for the winter. We followed the track up the steep rocks behind the Hermita and the views simply got better. Looking back to the Hermita the fields of olives spread in every direction and followed the gentle slope of the land down towards the coast. We stayed to soak in the view a short while and then headed onwards across the rocks to the caves of the Foderada, formations etched out of the sandstone by the weather.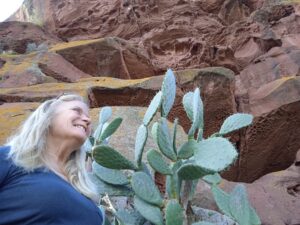 The route here needs a little care as the cut steps are worn and sloping now with gravel which has a tendency to follow gravity and, if you're not careful, you with it. We took our time to descend, narrowly missing being run over by a motorbike (!), the narrow path which now wound it's way through the cactuses and back to the main track. Then reversing the same route back to the village. It's a gentle hike and suitable, with a little care, for families and dogs. Then home for some lunch.