Richard Foley translated the excellent little book, Eins, Zwei, Frei! by Wolfgang and Anita Gramer, from the original German to English.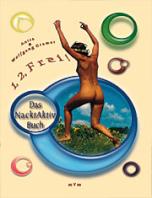 The book contains over 140 full colour photos and many articles describing naked outdoor activities around Europe and the rest of the World. The English language version includes extra material from the Naked European Walking Tour and Naked Munros trips.
While this version of the book is not yet published in paperback form, we are making the entire contents available as a PDF file. As a preview you can take a look at the freely downloadable Chapter 5.1. Note that you can also request a free Swedish textual translation, (by Olle and Eva Strand), of "Eins, Zwei, Frei!", (also in PDF format and including the 2 new chapters), when you buy either the German paperback above or the English language PDF here.
Connect with the translator on:
[purchase_link id="302″ style="" color="" text="Purchase"]